What is an End of Life (EOL) Doula?           
An EOL Doula's job is to be a supportive presence to the dying and the loved ones of the dying.
An EOL Doula is a non-medical person who gives support physically, emotionally and spiritually to someone else.
An EOL Doula may:
Suggest interventions to improve comfort.
Help the client understand and create Advance Directives (If they are not already done)
Plan the Vigil: help the client and the family plan how they would like the last 24-48 hours of the person's life to be and who they would like to be there.
Help the client and/or family with end of life planning: discuss their wishes for the wake, funeral and eulogy.
Help the client/family to write his or her own obituary & eulogy
Create Remembrances: Help the client to document his/her meaningful life stories to leave behind for loved ones.
Help the client to find meaning & contributions in his/her life
Support the client and their loved ones through the entire end of life journey.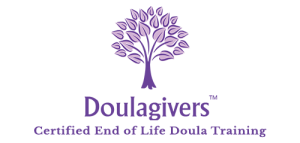 Advocates In-Home Care caregivers receive training through Doulagivers to provide end of life care.   We are proud to have our agency certified to provide this valuable service to our clients.  The Doulagivers Trainings are the New Gold Standard in Elder Care and End of Life Care.  Awarded "Worldwide Leader In Health Care" by The International Nurses Association, Doulagivers is raising the level of care in both medical and non-medical Home Health Care Agencies, Nursing Homes, Assisted Living Facilities, Hospitals, and Long Term Care facilities.