The kids see the need; friends and neighbors see the need, but dad isn't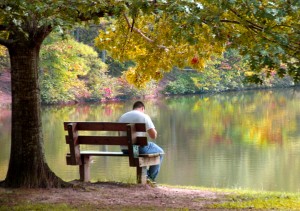 seeing it at all.   Mom has Alzheimer's disease and Dad is running himself ragged to care for her. The out-of-town family members urge him to get help, but he refuses assistance, wanting to honor his vow to be with her "in sickness and health".
Dad's health is rapidly declining and Mom is struggling to do all the household chores while meeting his increased needs. The daughters see the strain on Mom, and Mom is receptive to help. But even though Mom's health is starting to suffer, Dad remains oblivious. He believes that because his wife has always coped, she always will.
A son moves back home to care for an aging parent and tries to provide 24/7 care on his own, because "Mom did that for me when I was a child." His friends have fallen away leaving him isolated, lonely & depressed.
Sleep deprivation, irregular eating habits, lack of regular exercise, loss of social contacts and constant worry all take their toll. Statistics show that around 30% of caregivers will die before the person for whom they are caring. Caregivers exhaust themselves, neglecting their own health and well-being.
While easier said than done, those witnessing the caregiver burn out need to make a case for respite care.   The caregiver needs an advocate to step in and support giving the caregiver a break. That break can come from other family members or friends, or from a hired caregiver.   Respite can quite literally be a life saver.
Having personal time every day would be ideal, but even getting a few hours a week to run errands, get to his/her own doctor appointments, go to a movie or even take a nap can do wonders to restore a person's sense of well-being. Not only will the primary caregiver have some time to attend to his or her own needs, but will know that someone else understands and cares about them.
Caregivers who are able to take care of themselves through regular opportunities for respite are in the best position to take care of those in their charge. Often, once help is accepted, even the most reluctant recipient finds great relief in having respite time to refocus and recharge.